BYP Leeds (a BYP Network chapter) is a community of Black professionals connecting with each other and with leading companies to advance their careers and elevate the status of the Black professional and Black talent.
The History of BYP Network
BYP network was founded in 2016 by Kike Oniwinde Agoro to harness the power of the black community. With a network of 50,000 members and a reach of 150,000 and a focus on working with existing black networks and businesses, BYP is here to change the black narrative. As a platform, BYP provides a social network, professional development blogs, leadership podcasts and events as well as newsletters. In 2020, BYP launched global chapters to help individuals connect and network with each other across different cities.
Mission and Goals
BYP's mission is to "Advance the careers of Black Professionals" enabled by Javelin, an AI-powered career advancement platform. Javelin is designed to bridge the gap between Black talent and curated career opportunities by transforming the way Black professionals navigate the job market, eliminating traditional barriers and biases that hinder career progression.
With a significant start to its launch in February 2023, here's what the Chapter Lead of BYP Leeds, Patience Ndlovu, had to say:
"I decided to step out of my comfort zone and launch the BYP Leeds group because I wanted to help create a safe space in Leeds where Black professionals can connect and support each other and be their authentic selves without worrying about trying to 'fit in'.

The group launched in February 2023 and has steadily developed into not "just another community group", but a family unit. We have attendees from different industries including Tech, Finance, Marketing and Healthcare just to name a few."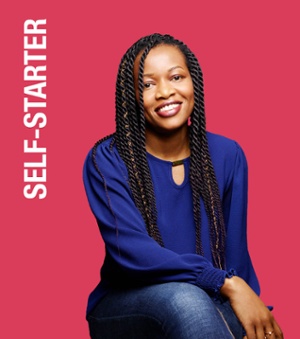 Patience continued, "As a group, we have seen several members getting new roles due to the connections they made at some of our events. It has also been amazing to see how some individuals have grown in confidence and the plan is to continue building on this by doing regular lightning talks. As a leader of this group, I have also grown in confidence and improved personal leadership skills. If I was to end with a bit of advice, it would be to know your worth then challenge yourself and surround yourself with people that will brag about you".
How BYP Leeds has impacted young professionals
Leeds Digital Marketing Assistant, Shantelle King, has been a supportive member of the BYP Leeds Network (alongside many others) since its emergence in February 2023. Here's what she had to say:
"The support I have received through attending these BYP Leeds events, from Patience and peers, has been extraordinary. Initially, I entered the space as a marketing apprentice and the growth of BYP Leeds (formerly known as BYPeers Leeds) has been incredible to watch. Being a member has created unlimited opportunities to network and meet like-minded individuals. It's inspiring to be surrounded by a group of black, young diverse talents in Tech, from expert product developers and software engineers through to cyber security professionals and business analysts."
What's next?
Patience continues to pave a path for young career seekers in Leeds making BYP Leeds a go-to for insights, knowledge, and inspiration. Some of the past events included a panel on "Building your Personal Brand" and a networking mixer with Sky – one of the largest media and entertainment companies in Europe.
The next BYP Leeds event, Black History Month Celebrations, will be on the October 18th. Details are TBC and will be published soon on the brand new Linkedin page.
If you would like to find out more about BYP Leeds, please contact Patience Ndlovu directly or via email: [email protected].
Interested in becoming a BYP Leeds member? Complete the form at the bottom of this page and follow the group on Instagram.