We all know Leeds is amazing, it is growing, and it is home to a very healthy number of brilliant technologists.
You might either be just getting into tech, finding yourself in a small company with limited exposure to some of the exciting things that going on, you might want to get face time with innovators and hear about what they are up to, or you might want to pick up something new.
When I lived in Japan, I was a freelance developer and I largely learned new skills from self-learning from software guides, books, and finding code examples online (Stack Overflow didn't exist then). I knew I had gaps in my knowledge, I knew there were others more experienced than me, and I didn't even know if I was pronouncing many of the technical terms correctly.
I went out and found as many community events as I could, this was limited in Japan, but there was a very strong Ruby presence and a very friendly and committed PHP community. I did also go to various DevOps and Frontend events.
Initially, it was a little intimidating, turning up as the only foreigner, swinging my own interesting style with dreadlocks and funny Japanese accent.
Over time, I got to make some of my best friends. In the beginning, I went just to listen and learn. These groups were great for hearing how people are implementing various software engineering techniques to various use cases. The other advantage was that as one of the few native English speakers, when superheroes from the international tech scene turned up, I got the opportunity to spend a lot of time with them and even translate for them on occasion. Imagine my surprise when I walk into the Asakusa Ruby user group in Tokyo and see that Matz (Matsumoto Yukihiro) the creator of Ruby is there, I spent the rest of the evening hanging out with him, and others on the Ruby core team.
One thing I learned from the Japanese programming community is how they spend a lot of time together in order to soak up each other's experiences rather than our more transactional quick-fix style.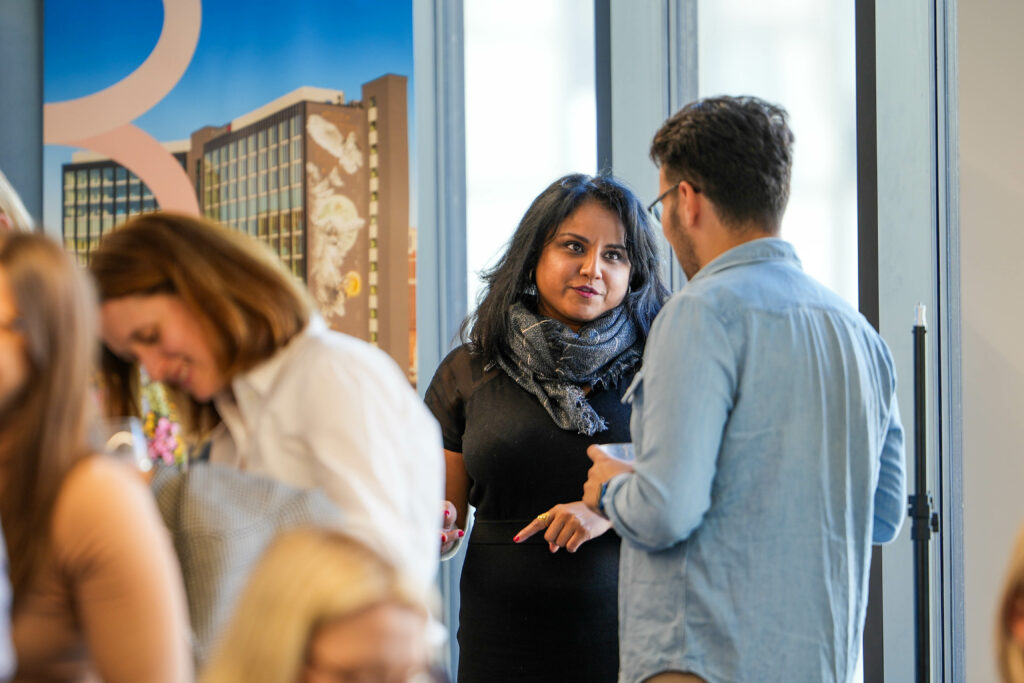 Getting Involved with meet-ups in the Leeds area
I highly encourage you to get involved in events going on in the area, like me you might start by soaking up what is happening, then as you gain confidence, give back! You can do this via conversations, asking questions, giving a lightning talk, or a full presentation. Helping to keep events running as part of an organising committee is also so valuable.
Useful tips when going to meet-ups
Going to meetups for the first time can feel scary. Don't worry! Everyone feels this initially. The more you go, you will soon get used to it. Some of the following might help you to get over this quickly and enjoy these events quicker.
Don't back out – If you sign up, tell others you are going and turn up. It is tempting to find reasons not to attend when it gets closer to the date, you will be glad you went along. Inviting someone else to go along with you will also make this far easier.
Arrive on time – Guessing timing is an art, but if you turn up late you might miss out on getting to know some of the key people in the user group. Turning up on time also ensures that you get to enjoy some of the food and drinks hospitality which will help you to relax.
Talk to other attendees as you arrive – this may be hard but putting it off makes it harder. Having a set of conversational starter questions can really help, like: Where do you work? Are you using this [insert technology here] for any projects? Have you been to this event before? Do you know anyone here that you can introduce me to? Do you have any advice for me as a newcomer to this tech?
Take notes – This can help you retain some of the information, and sometimes help you from falling asleep if the sessions are not as entertaining as advertised.
Go up to the speaker or organiser afterward and ask them questions – Even if you have any feedback, the folks who have prepared the sessions will love to hear your opinions. This helps you form opinions and talk about them. It also helps you to create a springboard for further conversation.
Try out what you learned – Thinking about how to apply the techniques being taught, is hard, but a very valuable skill. If you go home and jump in and try some of these out, it will massively help you to keep your momentum, whilst solidifying the knowledge. If you get stuck the speakers might even help you out if you reach out to them.
Tell others about what you learned afterwards – Not only will it help you remember what was talked about, it will help you sound like a pro and encourage others to go along with you next time.
Choosing the right meet-up for you
There are some great meetups to go to in Leeds and here are some of my top recommendations.
Ministry of Testing – Want to know how to test and write tests like a pro on small to enterprise-level projects? These folks will help you to navigate the art of testing and how to get the balance right (which is not as easy as you might think)!
LeedsJS – JavaScript and TypeScript are definitely one of the most popular development ecosystems today. You can do almost anything you want with JS. LeedsJS has been about for over 10 years and has recently got back into the rhythm of monthly meetups.
PyData Leeds – ML, data engineering, and advances in AI a very exciting space right now. If you want to see practical applications of these technologies with Python, come along to this meetup and be surrounded by some seriously clever people.
Hey! Presents – Having hosted over 50 events over a few years, Josh Nesbitt has run this most stylish group of events. From the uber-polished 'All Day Hey!' yearly conference at the Everyman cinema in Leeds to ad-hoc events at the Belgrave Music Hall, Josh brings together designers and developers to help the community think about more than just code and design tools.
Leeds BA Community – To address a gap in this space, spun out of BJSS this event was born. Still in its infancy yet gaining good momentum. If you do not know what a business analyst does? Want to be a better BA? Or pick up some new agile techniques and ways of working? Then this one is for you!
Yorkshire DevOps – Alternating between Sheffield and York, the DevOps space has a lot of exciting events including this one.
Yorkshire Azure User Group – For a more Azure focussed user group within the platform and DevOps space. This event is often held on-site at some of the power users of this tech including Infinity Works part of Accenture and BJSS. This is also a great place to hear about much of the other tooling that Microsoft is releasing.
AWS Leeds User Group – Promising to get in-depth with AWS cloud technologies, this is a great place to learn about the power that Amazon Web Services has to offer. It meets monthly and is often supported directly with speakers and input from Amazon itself.
Silicon Yorkshire – For networking with business executives, entrepreneurs, product folks, and what is going on in the broader Yorkshire region. Less likely to give you practical training on a given subject, this is a great space for hearing inspirational stories from successful technology influencers.
Don't be shy.
So, please be brave and go along. The Leeds Digital website and the upcoming Leeds Digital Festival will have even more choices for you to consider. If something is not quite up your street, nothing is lost, try something else. You never know, you might even find your tribe, passion, and calling.
About the author:
Rich McIntyre is an enthusiastic technologist currently working as Chief Engineer at BJSS' headquarters based in Leeds. He has been involved in the tech community in Leeds and Japan for a long time and runs local tech events such as LeedsJS, Leeds Digital Health and Yorkshire Full Stack.