The key is simple – turn up! Find an event that takes your interest, book a ticket – many events are free, even if numbers are restricted – and join in with an open mind and a positive attitude.
Luckily, Leeds is home to a huge range of networking events, and is one of the most collaborative, generous business communities in the UK. Whether you're a familiar face with years of experience behind you or a complete newcomer to the digital and tech sector, you will find a warm welcome in Leeds.
Follow some or all of the events and people featured below and you'll soon find out how busy the tech sector is in Leeds.
The Leeds networking and events scene
Now in its 8th year, the Festival will take place across the city and wider region in April and September 2023. This open-platform event is the largest open tech event in the UK, with the 2022 Festivals playing host to over 250 events. Increasingly international, it regularly sees overseas delegations coming to Leeds, with online attendees from over 60 countries. The Festival celebrates Leeds' unique collaborative spirit and outstanding digital and tech talent with events for everyone.
Several other events take place around the city throughout the year, so there's always somewhere to go and someone to meet. Here are a few of the regulars:
WILD Digital is a Northern community-led initiative, focused on both creating and highlighting activity that encourages minority groups to consider choosing a career in digital. WILD builds and supports groups, communities and networks which empower those within digital wherever they are in their career. They hold events and dinners throughout the year and partner with a number of organisations across the region.
Set up by Zandra Moore, this is a regular meet-up bringing women together in a supportive environment with interesting speakers covering topics from setting up a business to working in large companies. Aimed at building women's confidence and network.
Hosted by Mills & Reeve, Tech Tuesday is a really informal meet-up held on the 3rd Tuesday every other month. It's based at various locations but the next one is at The Lost & Found from 5.00pm on Tuesday 21st March.
A Leeds-based startup, meeow aims to bring traditional networking online, with a video-based platform that brings four people together at random ("imagine if LinkedIn and Zoom had a baby").
With 70+ tech meet-ups, Leeds has a great variety of regular tech gatherings from Digital Sport North to The Data Crowd to Leeds Sharp – Leeds Digital will be publishing a comprehensive guide in May 2023.
People in Leeds to follow
Head of Innovation at Bruntwood SciTech, Deb is one of the best connected people on the Leeds tech scene. On the steering group of a number of organisations and a director of Leeds Digital Festival, Deb is also the co-founder of WILD Digital.
The other co-founder of WILD Digital, Sarah is well-known in Leeds for holding senior roles in tech companies such as The Test People, aql, EY and BJSS, and is now Senior Director at Cognizant. Sarah is also the Ambassador for Leeds as a Digital City.
As well as being Global Head of Partner Engineering, Prime Video at Amazon, Natasha is also the founder of Empower With Tech.
Not content just with running the tech firm Panintelligence, Zandra is also a keen supporter of many of the city's tech groups and is the founder of Lean in Leeds.
An award-winning entrepreneur, Anna is the co-founder and CEO of fast-growing data services consultancy The Data Shed. A regular speaker at tech events, Anna is involved in a number of initiatives across the city.
Having worked in a number of tech organisations such as Sky Bet, NHS Digital and Accenture, Yasmin is now the Head of Connected Technology Academy at KPMG, helping to create the next generation of tech talent.
A tour de force in the cyber security world, Lianne is the world's first Cyber Anthropologist. Currently keeping Asda safe in her role as Head of SecOps, Lianne is a regular speaker at events in Leeds and across the UK.
The tech sector's favourite photographer, Kane is a familiar face across many of the city's events, either in his content marketing role with Tech Nation or as a freelance snapper.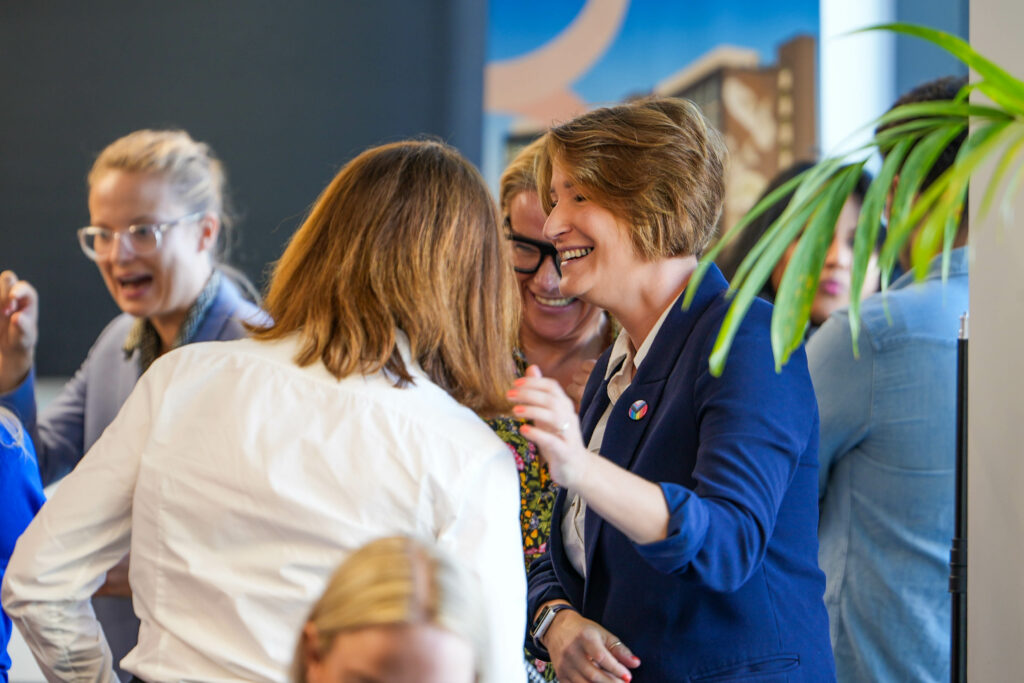 Places and spaces in Leeds
Leeds has a range of co-working spaces which are great places to work and meet like-minded individuals. Ideal for start-ups, scale-ups, and lone workers, the best of these venues create natural hubs which support and encourage individuals to flourish and businesses to grow. Many have a bar or cafe and organise their own networking, social events, and workshops.
In probably the best location in Leeds, directly above the train station, Platform is home to a cluster of over 80 digital and tech startups, with flexible workspaces and professional support that will help your firm to form, scale or grow.
Centrally located, it offers co-working and self-contained office spaces. They offer regular workshops to keep their members learning – from tech to mental health and well-being – something that lone-workers often miss out on as they're not part of a big corporate programme. They also have social gatherings including table-tennis tournaments and cocktail making classes. Barclays Eagle Lab is situated on the top floor.
Duke Studios is an open collaborative space just outside the City Centre. With a company motto of People first, Business second, Duke is not your usual work space provider. Based around a co-working model, Duke Studios provides a range of workspaces, creative services and facilities. They have a great cafe and a regular live music and dj schedule in their large event space.
Running three spaces in Leeds, including above Kirkgate Market and the newly-opened Park Place, they offer flexible space from a single desk to an entire floor.
One of the newest workspaces in Leeds, owners Kinrise have turned a former ironmongers and unloved office building into a high quality space with co-working and private offices. In a great location close to the station, there's a restaurant at street level open to the public and members.
Since it opened in 2019, this University of Leeds building has been connecting the region's businesses with the talent and expertise of university staff. You can rent a single desk, a whole office or even a laboratory.
The new kid on the block, Department opened in the old casino at Leeds Dock in February 2023 and offers a range of office and hot-desking, plus a social side including a gym and a bar.
Stuart Clarke is the founder of Paceline, a marketing strategy and PR consultancy working with firms in the tech sector, and the Festival Director of the Leeds Digital Festival.